Marketing messages are thrown at trade show attendees at almost every corner– on airport shuttles, at the venue lobby, at after-hours networking dinners, and more. With so many messages bombarding guests, it can be assumed that some messages are tuned out.  There is one area that is often overlooked: hotel rooms. After the hustle and bustle of the event, event attendees are mostly relieved to get back to their rooms to settle in for the night.
By leaving a hospitality kit such as branded eye masks or essential oils with a note encouraging them to visit your company's booth, you're ensuring that attendees will have an uninterrupted moment to absorb your key messages.
Here are some case studies: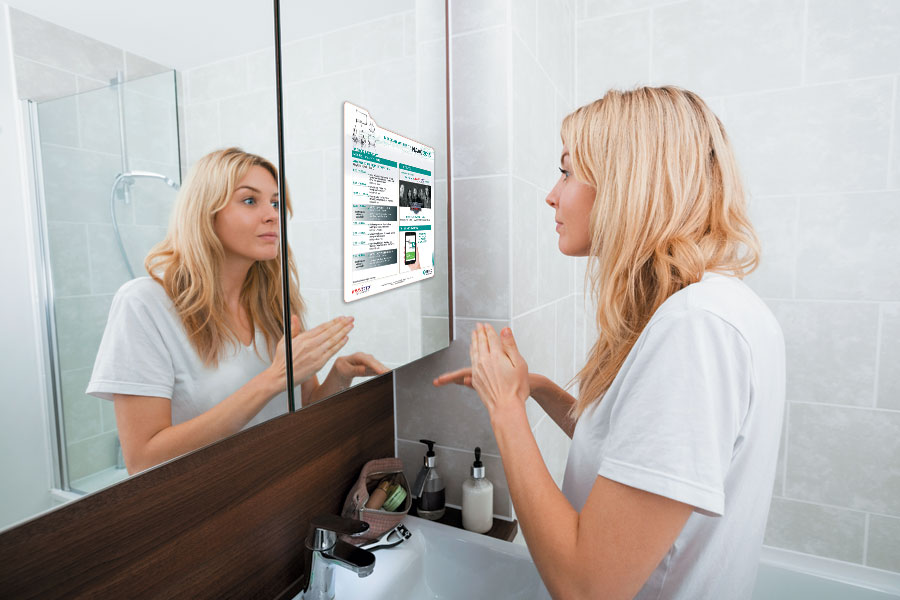 One way to guarantee that recipients see your marketing message would be to place room drops on the furniture in attendees' hotel rooms. Taking a step further, Merck Animal Health, a division of Merck & Co. Inc., at the North American Veterinary Community Conference. The pharmaceutical giant centered many of its sponsorship efforts on the second day of the show, which it dubbed Merck Monday.
To make sure attendees knew about all of the events it was staging Merck advertised them in the room attendees would be sure to frequent: their hotel bathrooms.
Before attendees checked into their rooms at two show-affiliated hotels, hotel staff applied an 8.5-by-10.5-inch cling-on graphic to the mirror in each of their bathrooms. Depending on check-in time, graphics were installed on Saturday or Sunday, allowing attendees a day or more to soak up all the messaging pertaining to Merck Monday.
The top of the graphics bore the text "Merck Animal Health NAVC" and pictures of several clear flasks and beakers – iconic imagery for the pharmaceutical industry. Below that header was a schedule of the eight educational sessions Merck was sponsoring that day, as well as information about a free concert by the rock band 38 Special later in the evening and a contest that offered attendees four chances to win $1,200.
The footer contained logos for Merck Animal Health and Bravecto, a new Merck product for flea and tick abatement being promoted at the show. The unique room drop installation not only aided in attendees sticking to the schedule, but also helped Merck's messaging stick in their minds long after NAVC ended.
Attendees appreciate giveaways that can be used immediately. To increase the odds that attendees would make long-term use of its giveaway, Wells Fargo Home Mortgage, a division of Wells Fargo Bank N.A., delivered its expo gift right to attendees' hotel rooms.
On the first day of the Realtors Conference and Expo, sponsored by the National Association of Realtors and held in Orlando, FL, Wells Fargo enlisted the staff at 14 show hotels to place 5,250 branded trinkets in event attendees' rooms. Showgoers returned from a long day of sitting through educational sessions and wandering the exhibit hall to discover a red organza bag tied shut with ribbon. Inside, they found a flyer that announced Wells Fargo's slogan for the show, "Home ownership makes a difference!" On the reverse side, product information about the mortgage provider's online loan-shopping tools and explanations of why they should recommend them to their clients could be read.
Attendees also found a red leather luggage tag tucked into the semitransparent package. One side of that tag included a clear window where recipients could write down their contact information or slip in a business card – valuable data should their suitcases go missing in action. The reverse side bore only an embossed outline of a house with a heart inside it, a symbol Wells Fargo had used throughout the show as a part of its campaign promoting home ownership. The simple strategy ensured that attendees had the time and quiet space to absorb the dense messaging about mortgages, and that the house-and-heart emblem would be spread to airports across the country.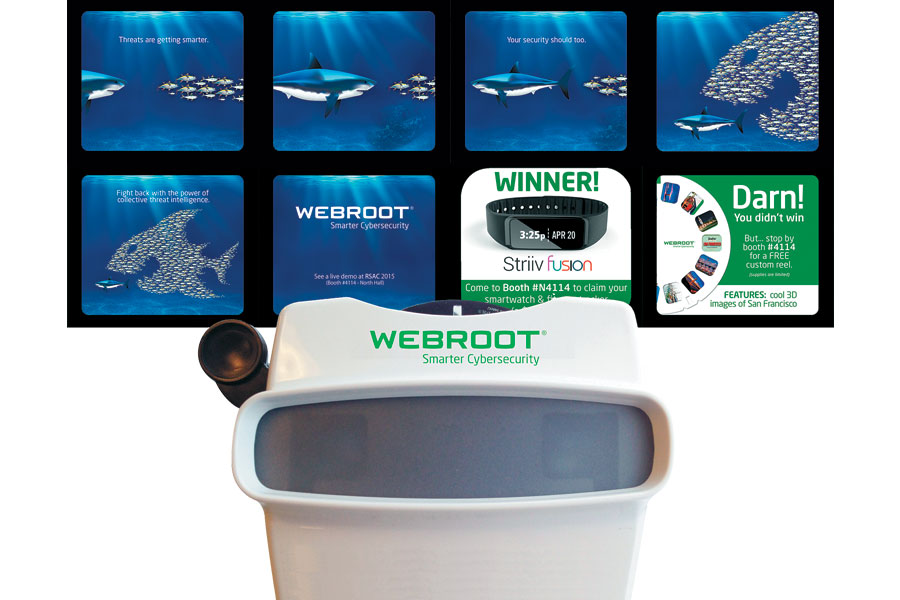 Many exhibitors offer contests and spin the wheel mechanisms at their booths as a means of luring showgoers, but at the RSA Conference in San Francisco, Webroot Inc. brought its giveaway to attendees via a creative room drop. On the first evening of the show, roughly 3,800 attendees returned to their hotel rooms to find a small, cube-shaped black box waiting for them.
They opened the mysterious-looking package to find a white View-Master toy featuring the green Webroot logo along with the company's tagline, "Smarter Cybersecurity." An accompanying note instructed attendees to click through the enclosed reel of images (which included key messages about Webroot's products) to see if they were a winner.
When they reached the end of the stereoscopic slideshow, one of two scenarios occurred: 1) The final slide instructed the recipient that he or she was not a winner but could stop by the company's booth to pick up a custom reel containing 3-D images of famous San Francisco landmarks, or 2) for a lucky group of 100 recipients, the final slide said, "Winner! Come to booth #N4114 to claim your smartwatch & fitness tracker (a $99 value)." Below that message was an image of the high-value giveaway: a black Striiv Fusion activity tracker.
The prize was a perfect tie-in to Webroot's "Smart" theme at the show, and the room drop made sure that winners and non-winners alike had a powerful incentive to make their way to the company's booth when the event reopened the following morning.
To reiterate its "Renting Rocks" exhibit theme at the Healthcare Convention and Exhibitors Association Annual Meeting in Denver, Steelhead Productions served up some musical flair in attendees' rooms.
On the first day of the show, hotel staff at the Hyatt Regency Denver placed 3.75-by-8.5-inch black pamphlets on the dressers in attendees' rooms. The front read "Renting Rocks. Join The Movement." Below that text block was Steelhead's hashtag for the campaign, #ExhibitHappy, and the company's logo.
A business card for Steelhead's vice president of sales, who was attending the show, was slipped inside four diagonal cuts made on the bottom third of the pamphlet. An accompanying message read "Text or email to set up a time to chat with a rental expert at the show."
As attendees opened the card, they discovered that a wooden drumstick imprinted with the URL www.exhibithappy.com had been glued to the centerfold with rubber cement. Further text instructed attendees to "Join the Movement @ HCEA" and bring the drumstick to booth 206.
When a drumstick-wielding visitor arrived at the 10-by-20-foot exhibit, staffers invited him or her to sign the drumstick with a permanent marker and insert it into a slotted shelf positioned along one wall of the space. In exchange, staffers gave the promo participants black T-shirts with the saying "Renting Rocks" screen printed on them. If attendees had left their drumsticks behind in their hotel rooms, they were encouraged to grab a replacement drumstick from a jar in the exhibit. The promotion drove booth traffic and got attendees rocking, which was music to Steelhead's ears.
Source: Exhibitonline