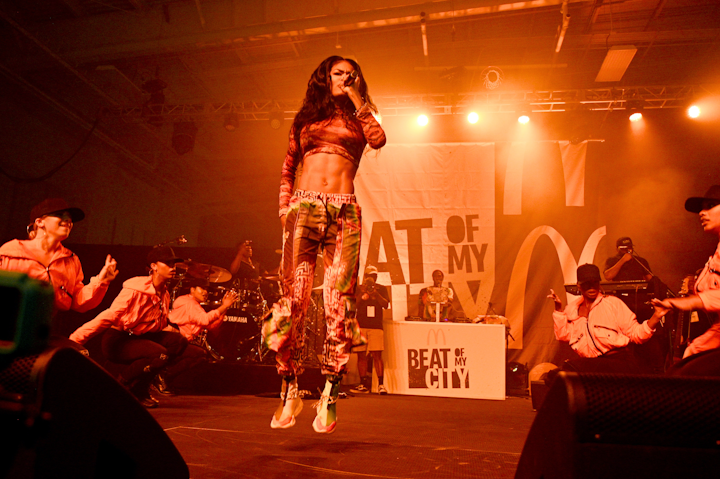 Photo: Dave Kotinsky/Getty Images for McDonald's
NEW YORK—Some of McDonald's most memorable activations in recent years have been simple yet effective, from a retro roller skating party at Essence Festival to a photo booth bed at the Grammys to a "stay-at-home" event celebrating an Uber Eats partnership. The fast food company's latest experiential effort takes the brand's feel-good event style on the road with Beat of My City, a concert tour that brings artists to their hometowns and incorporates a fund-raising element to give back to local organizations.
The inaugural tour kicked off September 21 in New York with a concert headlined by hip-hop artist Teyana Taylor, and held its second stop in Chicago (the brand's headquarters) on October 17, headlined by rapper Juice Wrld. The concerts were free to consumers age 18 and over, with tickets available on a first come, first serve basis on a custom event website; people learn the event locations once they R.S.V.P.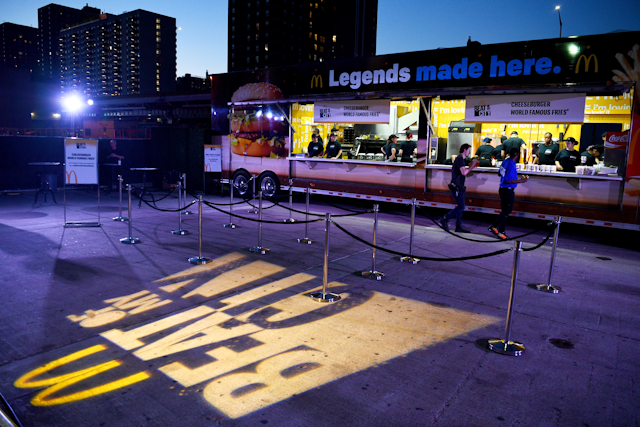 Naturally, McDonald's brings its own food trucks to the events, which feature the slogan "Legends made here," evoking the Beat of My City theme.Photo: Dave Kotinsky/Getty Images for McDonald's
Along with performances, the tour incorporates a charitable element in which artists designate a local nonprofit for charitable donations from McDonald's. Taylor, a Harlem native, chose the Dunlevy Milbank Center, a Harlem-based nonprofit dedicated to helping children in poverty. Juice Wrld chose 100 Black Men of Chicago, which provides positive role models and other services for African-American boys and men in the city.
Lizette Williams, head of cultural engagement and experience for McDonald's, said the brand launched Beat of My City to celebrate local communities and connect the brand to music and pop culture.
"It's the best of both worlds. Through the initiative, we're celebrating those communities by giving back in a tangible way," said Williams. "The truth is, this is a continuation of a long-time commitment we've had and a narrative that's always been there, which is about supporting and celebrating communities."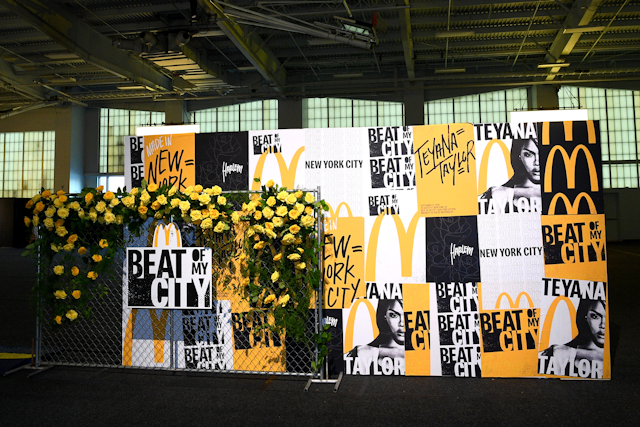 The New York event's step and repeat featured yellow roses draped on a piece of chain-link fence, backed by a sign wall displaying the name of the event and the headliner. Narrative is producing and designing the tour.Photo: Dave Kotinsky/Getty Images for McDonald's
The events, which are produced and designed by Narrative, not only have the headliners give back; the series also invites attendees and fans to help raise more money for each organization through a partnership with Spotify and Genius, a digital media company that provides annotations and interpretations of lyrics on the music streaming platform.
Through Genius' lyrical platform, the public is able to help increase each organization's donation by as much as $20,000 through a program called Annotate for Good, which invites listeners to contribute notes and commentary to Teyana Taylor and Juice Wrld's lyrics. Williams said McDonald's wanted to leverage Genius' platform to give any user the opportunity to turn their activity on Genius into money to support the two organizations.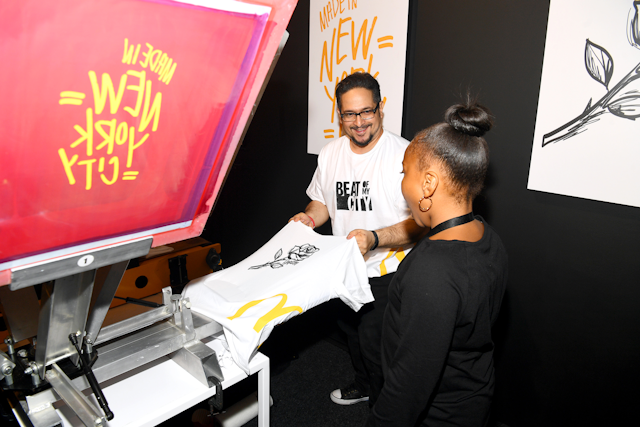 The New York event had a screen-printing station that offered guests T-shirts displaying the McDonald's logo and an illustration of a rose inspired by Taylor's song, "Rose in Harlem."Photo: Dave Kotinsky/Getty Images for McDonald's
Williams also explained that Beat of My City speaks to McDonald's overarching experiential strategy, which is to "drive culture forward through modern marketing." And the brand sees it as bigger than just a live music experience.
"We're connecting to these two social causes, and we want to encourage future Teyana Taylors and Juice Wrlds. Beat of My City is providing a platform for that community pride," said Williams. "The bigger aspect of this is looking at how our approach really embraces elevating culture and creating experiences for our consumers that are bigger than just one-time, on-the-ground events."
While Williams did not disclose where Beat of My City will travel to after Chicago or if it will continue in 2020, she did note that McDonald's has a lot planned for its events next year.
Source: IAN ZELAYA for BizBash