It's a no brainer. Live events will look different in a post-COVID-19 world—for awhile at least. While timelines and requirements will largely be dependent on your specific state and country, one thing is certain: Guest numbers will be down, and physical distancing will be a must.
To help event pros navigate this new terrain, digital tool allow planners to easily measure seating distances, space out sanitary stations, and more, and can quickly be adjusted based on country, state, or local government regulations.
Strategically placed furniture, draping, florals, and greenery to keep guests apart while also keeping the room from looking large and empty.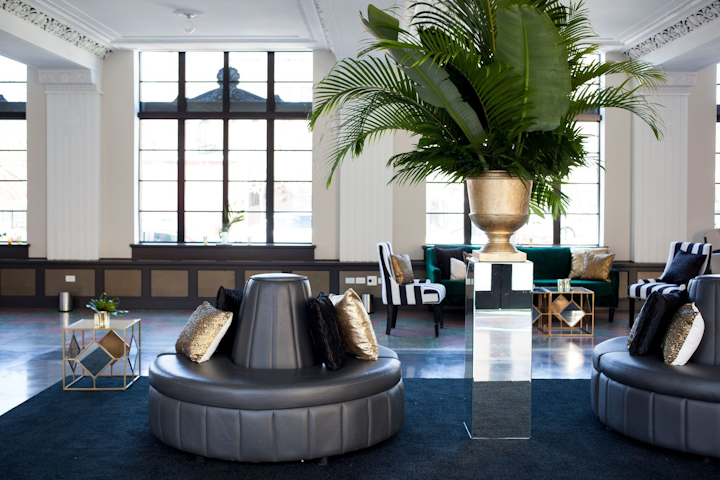 Jack Scafide, CORT Events' midwest district account executive, suggests starting by breaking the room into a six-foot grid. "This makes it much easier to place chairs, aisles, decor, etcetera, making sure everyone will be at least six feet apart. Your room or space will shrink very quickly," he notes.
For daylong or multiday conferences, CORT suggests giving guests individual chairs that they can stick with for the duration of the event. Stay away from folding chairs, says Scafide.
Scafide also stresses that each attendee should have their own individual table to avoid cross-contamination, as well as their own charging stations to avoid having guests cluster near an outlet.
Best Events Productions is selling branded throw pillows (RM70 each) as a cute way to indicate spacing between guests in seating areas. (ORDER YOURS TODAY!)
In terms of staging, stay away from breakout rooms, which can make physical distancing difficult. Instead, consider having as many as five stages in the same room, says Scafide. Using silent disco-style headphones, attendees can tune in to whichever presentation they want—without leaving their designated seat.
Similar ideas can apply to social events and receptions. Use large sectionals or ottoman groupings, with at least 10 to 12 feet between seating vignettes. Signages or tables can be placed to keep guests at an appropriate distance, as well as hedges, decorative dividers, planters, and stanchions for more stylish options.
Social events will see multiple dance floors and bars throughout the space, creating "more destinations to convene in smaller groups. With the right entertainment, people can dance wherever they feel comfortable—and the host can travel to each area," she says.
To cut down at lines at bars and food stations, use a reservation system: People can use their phones to order, and be pinged when their pre-made drink or boxed meal is ready.
Instead of gathering at tables for food and drinks, walk along an area where wait staff stand to pick up your preferred food and drink.
For physically distanced dining, floorplans should offer at least 10 to 12 feet between tables and chairs. Six-foot bar or dining tables can have a guest at each end and decorative elements in the middle; for another option, give each guest a smaller round table. Markings on the floor—such as a six-foot round carpet or vinyl appliqué—can keep attendees from gathering too closely.
Need event solutions to help you get your brand in front of people? Contact us today!